Destiny of Blood
A downloadable game for Windows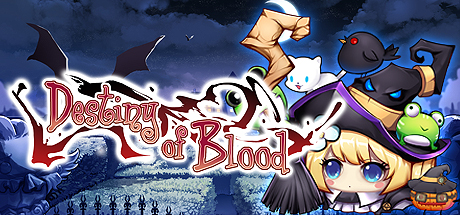 Destiny of Blood is a turn-based strategy game. This original storyline is outside of this world starring two garrulous main characters that set out on a magical adventure. This game recalls the classics, it uses the ancient Japanese war-game's combat and operating system, honoring many classical war-games.
Steam link:http://store.steampowered.com/app/688360/Destiny_of_Blood/
ABOUT THIS GAME
Game Features:

1.Original chibi (Q-version) cartoon characters, individual designs, rich emoticons;
Taking inspirations from Gumballs & Dungeons, the round small-bodied character designs also have many expressions. This unique production will make female war-game lovers addicted.

2. Complex and rigorous system of high game difficulty
There is nothing to say, to observe carefully, to think, and to be interesting. The game does not support A player who wants to pass through without thinking.

3. Commemorate the classics, replays memories from your fingertips;
Pays respect to details from Tempest's operating commands, double war zone set-ups and training performances.
Uses Langrisser's movement and soldier systems as a reference.
Integrates SD Gundam's challenge incentive system and combat skip mode.
Professional skills include dozens of classical war-game features so that users would acknowledge our ideas.

4. You can change the role with the costume, there's infinite occupation switches and a self-made battle system;
During the game, players can unlock occupations by collecting champions. They can switch roles as many times as they like, and the new roles could take on the skills that the previous two champions acquired.
Every role and occupation of this game were meticulously designed, every skill is specially made. Players can make endless combinations of game play by role switching, so much as to create a combat system of their own.

5. Hidden stingers, solving adventures and many features alike;
We have added many game-solving elements, players can destroy scenes during the game. These include interactions between two scenes, searching for hidden rooms, assembling weaponry, secret plots, saving others and more.

6. A magical script about two main characters to turn your world around. Various endings, the truth awaits your discovery.
To come up with a script to make the players more satisfied, we invited a female writer who is also a Japanese game lover into our team. Together, we created a brand new, out of this world story.
The storyline is currently under intense production, we estimate that it will be composed of ten chapters, at least 30 main battle scenes, over 20 secret plots scattered among every battle and each chapter will have around 30,000 words. Fulfills every RPG players' fantasies about a virtual and magical story.
Download
Download
https://pan.baidu.com/s/1c2jd660